When Māori charted the coastline of New Zealand they were sketching an outline that would become the profile of our land, recording and fixing its identity.
The At the Beach exhibition presents a selection of garments that help to tell the story of the evolution of summer fashion in New Zealand. By looking at what we wore at the beach over the last 100 years, we can explore how our relationship to the coast not only encapsulates our identity, but how it has inadvertently influenced it and permeates our everyday existence.
This exhibition covers a number of themes that invite you to look at our past and also to reflect on how our unique beach culture can still be seen in our national fashion identity.
Camping & Baching
Packing up the household and decamping to the coast for a summer under canvas has been a seasonal ritual since the first people settled here. Whether to make use of the food resources or for recreation, the beach is our sweet spot. Camping out evolved from a necessity for the early settlers, who had no other shelter, to an annual custom through which we re-enacted and celebrated the ideology of self-reliance and our pioneering spirit.
The 1950s to the 1970s were camping's heydays and the square canvas tent with a green roof became ubiquitous. Government policy encouraged local councils to provide recreational facilities including municipal camping grounds and the Annual Holidays Act in 1944 guaranteed everyone two weeks' paid annual leave. By convention this became the Christmas close down and witness to a mass exodus from the urban areas.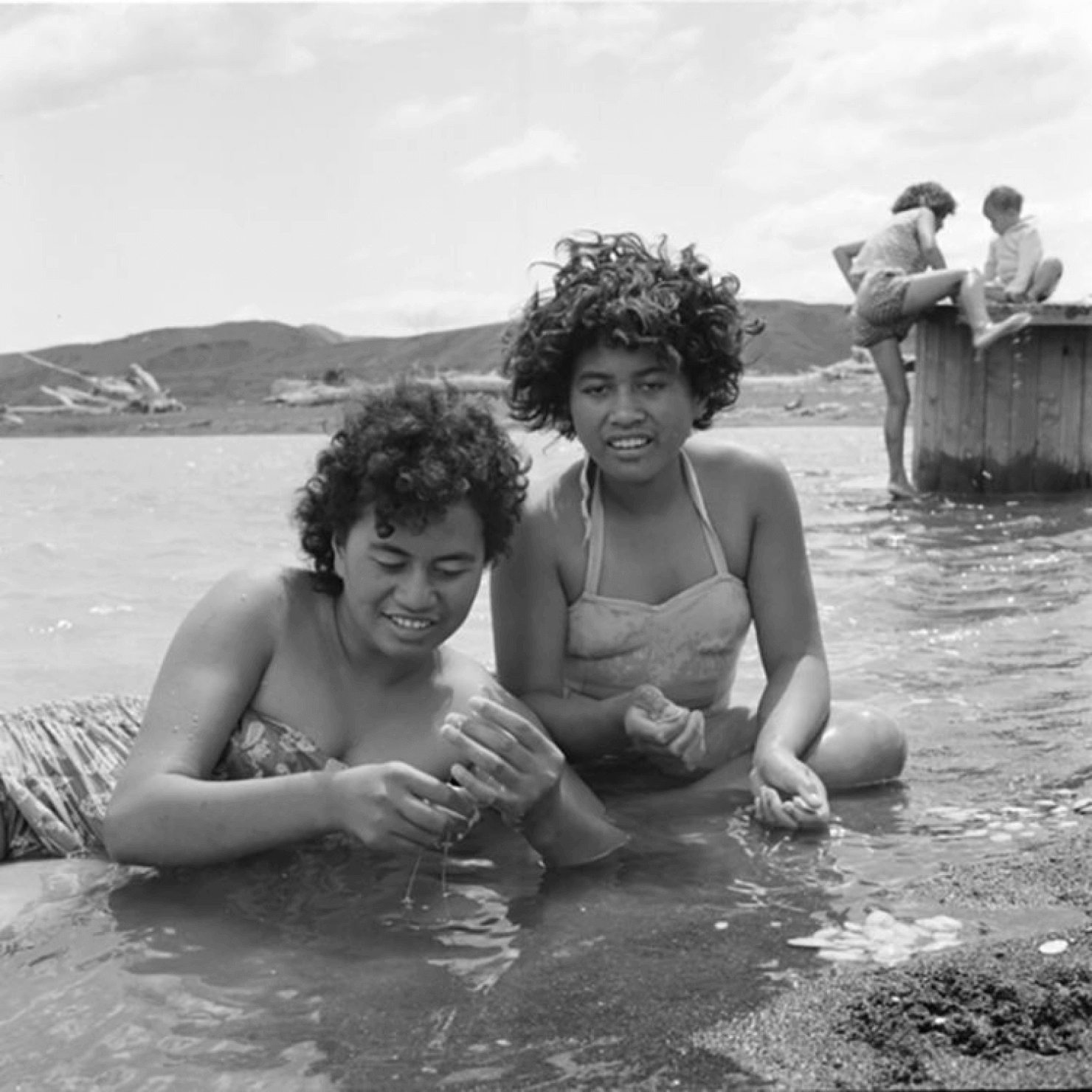 Increasing car ownership in the 1950s made the transport of a tent, camp beds, folding tables and chairs, Thermette, pots and plates, Tilley lamps, a portable radio and the whole family to a remote beach a possibility for many. When we got there our neighbours might be anyone from anywhere, Māori, Pakeha or a new immigrant; under canvas in our swimsuits and shorts there were few markers of social or economic status.
A simple home away from home and more weather tight than a tent, the bach, was the beach accommodation of choice for others. While the bach may appear carelessly thrown together it is not unconsidered. The choice to preserve simplicity is deliberate, freeing the residents from a need to pay it any attention. The egalitarianism that spawned the beach holiday and the bach meant a fair share for everyone but it also meant not drawing too much attention to yourself, a characteristic that remains at the core of Kiwi culture and fashion.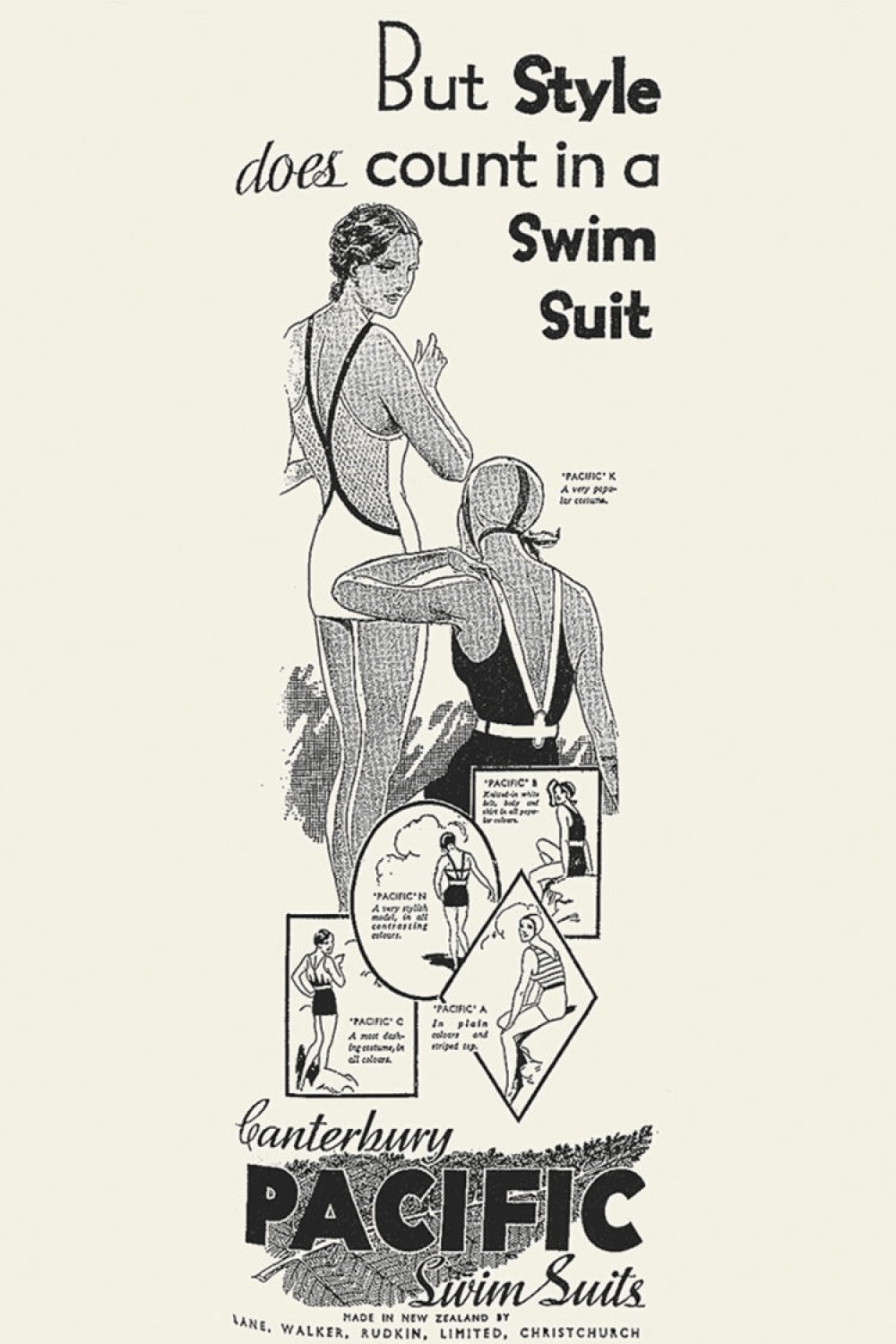 Even though this simple Kiwi bach of our imagination has been overtaken by a new reality, we cling tenaciously to the mythology. Even in luxury beach suburbs like Pauanui and Omaha where baches are bigger than your average suburban house, the aspiration is to keep it simple with open vistas, easy-care floors and carefully edited furniture and relaxed furnishings. The bach is a living expression of the culture of ease and functionality, which we so value as New Zealanders.
Decades of Fashion
Through history our relationship to bathing has ebbed and flowed sometimes in favour and sometimes frowned upon.
When we again recognised the benefits of bathing in the sea in the late 1800s it was modesty and the beauty ideal of pale skin that dictated the appropriate fashion and proposed a costume in dark coloured fabric thick enough not to become see-through when wet. Once in the water these became heavy and not at all conducive to swimming so when the liberal young ladies of the 1920s wanted to be more active, they chose to adapt the smaller more fitted knitted woollen swimming suits worn by men to their own fashionable purpose.
The swimsuit continued its shrinking trajectory exposing more and more skin and finally, in the mid 1930s, it became acceptable for men to fully expose their torsos, although not their navels.
World War II and material shortages brought challenges with wool and elastic no longer readily available. But it also brought new freedoms in fashion and lifestyle for women. Taking on men's work also meant wearing the pants and a more active wardrobe. This translated to beach wear, which became more casual with the introduction of separates; shorts and tops that could be mixed and matched. Swimsuits too separated - cutting the middle section out saved material and made movement easier.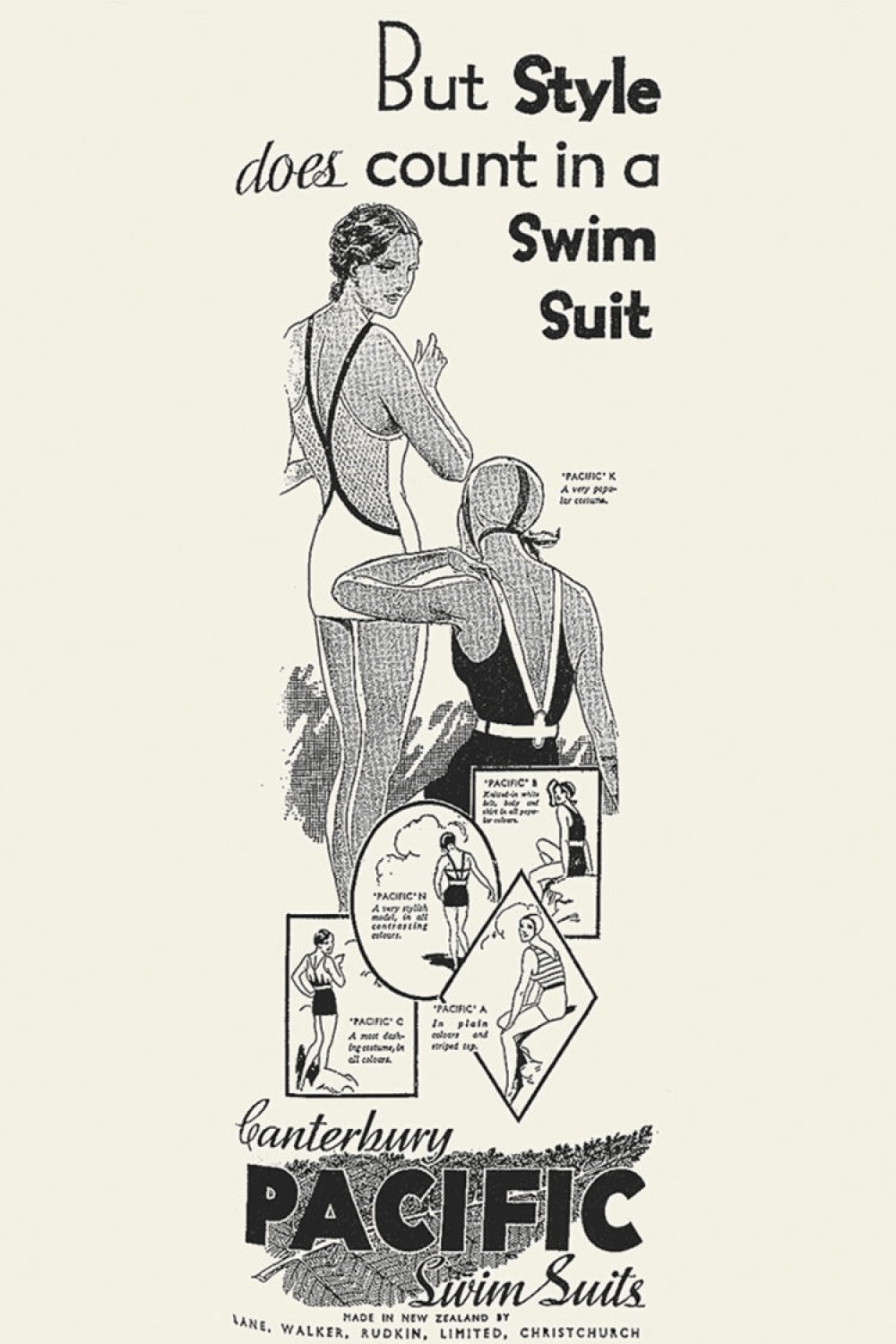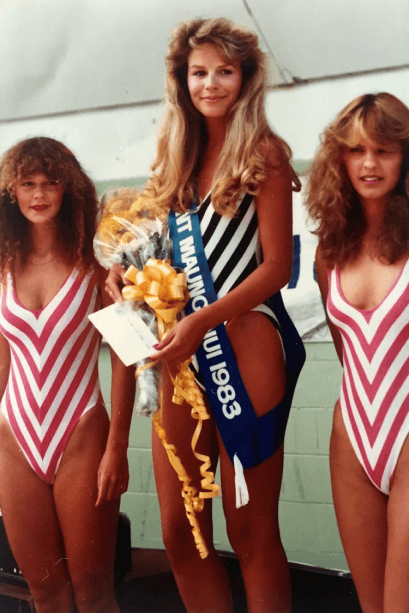 In the 1950s the economy was booming and from Hollywood films we copied the look of their curvaceous women stars and suave leading men, hoping to channel their glamour as we went swimming, sunning or sailing.
In the 1970s swimwear got smaller still and what we wore became more individual. Holiday clothes infiltrated the urban wardrobe: singlets, t-shirts, trousers for women, bare legs, sandals and jandals appeared as daywear on city streets.
In the 1980s, thanks to Lycra, the leakage from the beach to the street continued. Bold, bright swimsuits with high-cut legs were also worn for aerobics or as bodysuits under flamboyant skirts accessorised with big hair and bigger earrings. High fashion and beauty pageants were briefly aligned.
The obsession with physical fitness and body-shaping meant that the body became the key player in the fashion stakes with clothes assuming the role of accessory. New Zealand showed that it could cut it on the world stage. Lorraine Downes was crowned Miss Mount Maunganui in 1983 and later that year became Miss Universe. Her win was New Zealand's first in the pageant's history.
Auckland teenage model Rachel Hunter achieved global prominence appearing on the cover of magazines as diverse as Italian Vogue and Sports Illustrated.
In the 1990s, water-based activities such as triathlons and windsurfing saw the rise of practical one-piece suits designed for speed while the tankini and other separates allowed for personalised combinations and best fit, and rash shirts and other cover-ups offered protection from the sun.
Today swimwear is more a matter of personal choice than prescription with something for every taste and need.
Made in New Zealand
In the Beginning
The story of swimwear manufacturing in New Zealand starts with wool. It's not a fabric we associate with swimming now, but our early woollen knitting mills such as Lane Walker Rudkin, Roslyn and Manawatu Knitting Mills made swimsuits for men and women for the first half of the 20th century.
Recognising the limited seasonal demand for woollen clothing, these companies sought to diversify and respond to changing social trends. One of the new trends was swimming, which was heralded in the first modern Olympic Games in 1896. Lane Walker Rudkin, the company behind the Canterbury brand, was established in 1904 and by 1910 it had produced its first knitted woollen swimsuits.
The first exemplars for men looked like long john underwear and were produced in black to reveal as little as possible of what was underneath. For women, a knitted tunic and knee-length shorts known as the Canadian became popular. The technical and fashion demands of swimwear production ensured these companies kept up with the latest in materials and manufacturing technologies keeping up to the minute. Knitted wool was the material of choice until the 1940s when elastic fibres became more accessible.
Designs under licence
For swimwear, branding was one of its significant features with logos embroidered or stitched to the outside of the garment. The cache of the label was an important part of the swimwear story as early as 1920, for example, the Jantzen 'diving girl' and their slogan 'The Suit That Changed Bathing to Swimming', Speedo with 'Speed on in your Speedos', the green fern of the Pacific brand by Canterbury and the Roslyn label with the swimmer on the back of a seagull.
Exporting success
In the 1970s and 1980s, local swimwear labels Expozay and Moontide successfully took New Zealand style to the world.
Expozay was started in Tauranga by Judy and Tony Alvos in 1976. The brand's focus was on subtly sexy suits in vibrant colours and original prints. By 1978 they were selling into Australia, and a decade later the company had some 900 accounts throughout UK, Japan and North America including the major department stores.
Local players making a splash
In 1961 Dutch immigrant designer Frank Carpay, his wife Carla, and patternmaker Robert Leek developed a range of beachwear for men and women. Frank created his own Pacific-inspired designs which were printed on to towelling.
Boutique designers have also found loyal markets for their unique styles of swimwear. Jennifer Godward established her label Jennifer Dean in 1960. She sold her fashionable and funky bikinis in Vulcan Lane, Auckland, and wholesaled around the country. In 1990 the brand was sold and with manufacturing off shore it continues to be a success today.